Last weekend didn't go quite as planned. Actually... it didn't go at all as planned. We had high hopes for a corn maze, a trip to Salt Lake, and some pumpkin decorating. But instead we went to In n Out, a dollar movie, and didnt leave the house once on Saturday. Pretty promising. The only thing that did happen was hanging out with Drew and Madison.
This weekend, there is NO backing out of plans. My mom got in last night and I am spending the weekend with her at the
Time Out for Women conference
. My brother and I got her tickets for her birthday back in July, so this has been in the works forever. It will be fun to spend the weekend with my mom. And I think my mom is planning on seeing all her grandchildren while she is here, so that is always exciting for her. Besides that, Adam will be having a man date with Drew because Madison's mom and sisters are in town and will need a girls night. And then tomorrow we will hopefully go buy a vacuum and some pans... I know, we have been married for two months and we still don't have those pretty important items. We are just a teeny tiny bit behind. Oops! So enjoy your weekend. And enjoy this song on repeat. I am LOVING the new T Swift Album. She just gets me.

What are your plans for the weekend?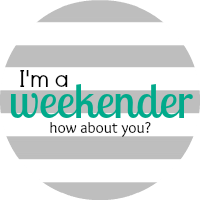 Have a smashing time!
Love,
Deidre