Two receptions means two wedding cakes. And I loved them both. Really different yet very much the same. So here I am with more wedding photos to share! This time. It is just of the cake and the grand event in which we cut the cake. Once really nicely and once really not so nicely.
First here is the Twin Falls cake. Which I loved. I showed our cake lady a photo from pinterest of a cake that I liked... and she turned it into a cake that I LOVED! She far far far passed my expectations. The flower looked better and she added the little lace accents. It was seriously perfect.
My mom made a BEAUTIFUL cake table with our colors and a few crowns and baseballs to add character. I saw a cake table similar to this in a friend's wedding photos a long time ago and fell in love with the idea. Luckily so did my mom. She set a whole day plus some aside to design this for me. I couldn't have been happier with how it turned out. Our neighbor made us the knife and cake server. She had my mom come over to help pick out beads in our colors and then they spent the evening stringing beads onto wires for our serving set. Adam called them "the special stone set".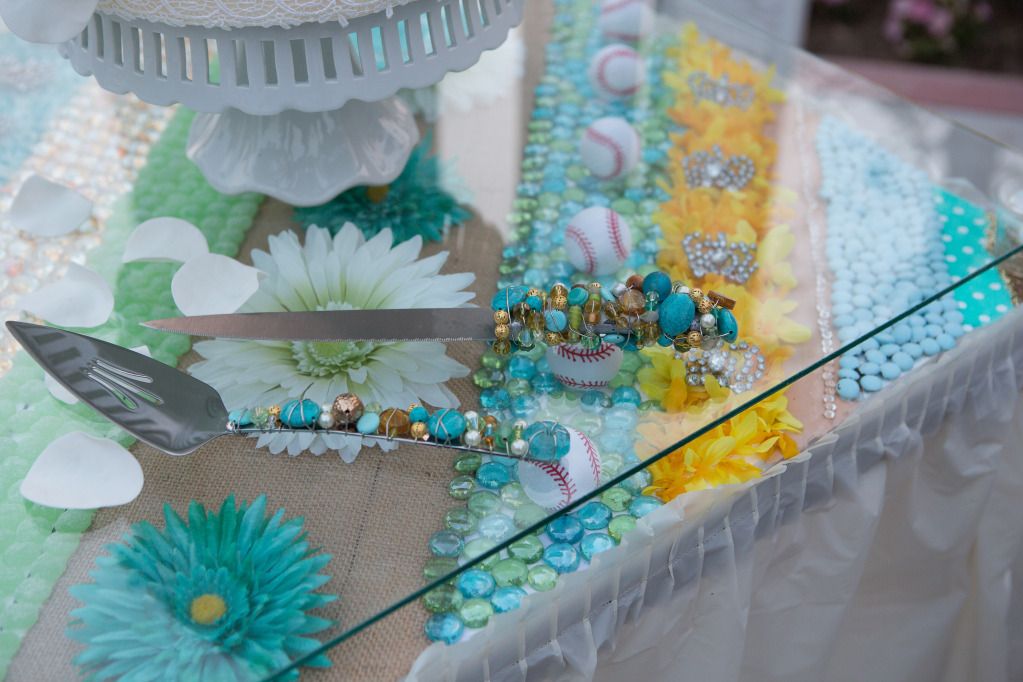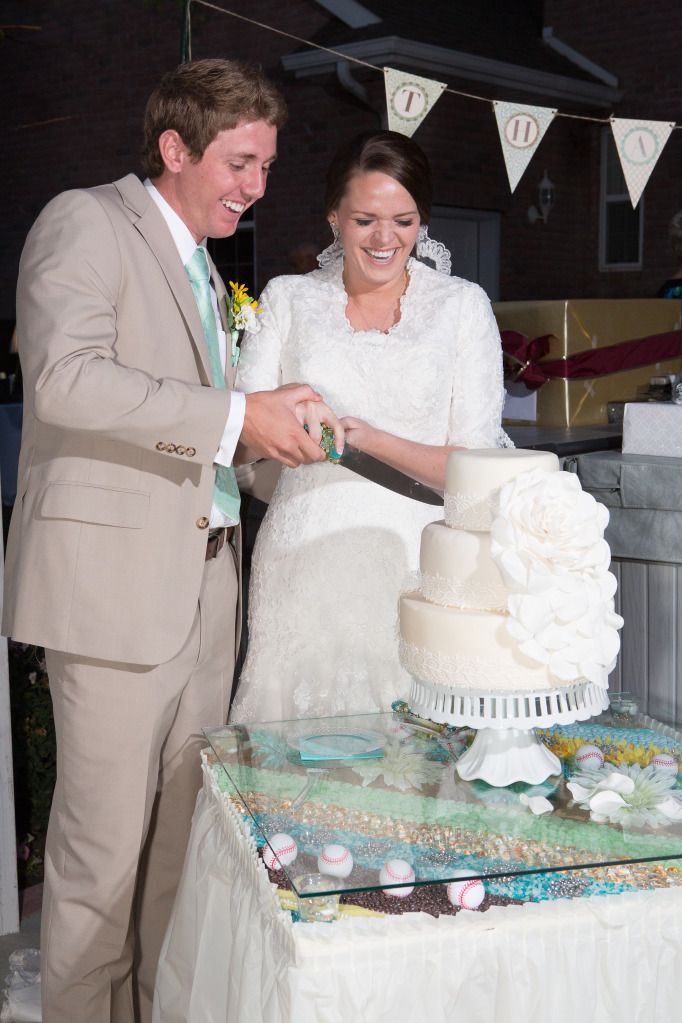 See... we were nice in Twin Falls. Because I told Adam that a messy feeding of the cake was a bad omen. Messy face equals messy marriage.... I think he knew I was joking but either way I am glad he honored my wishes. I didn't want to clean up and fix my makeup before our first dance.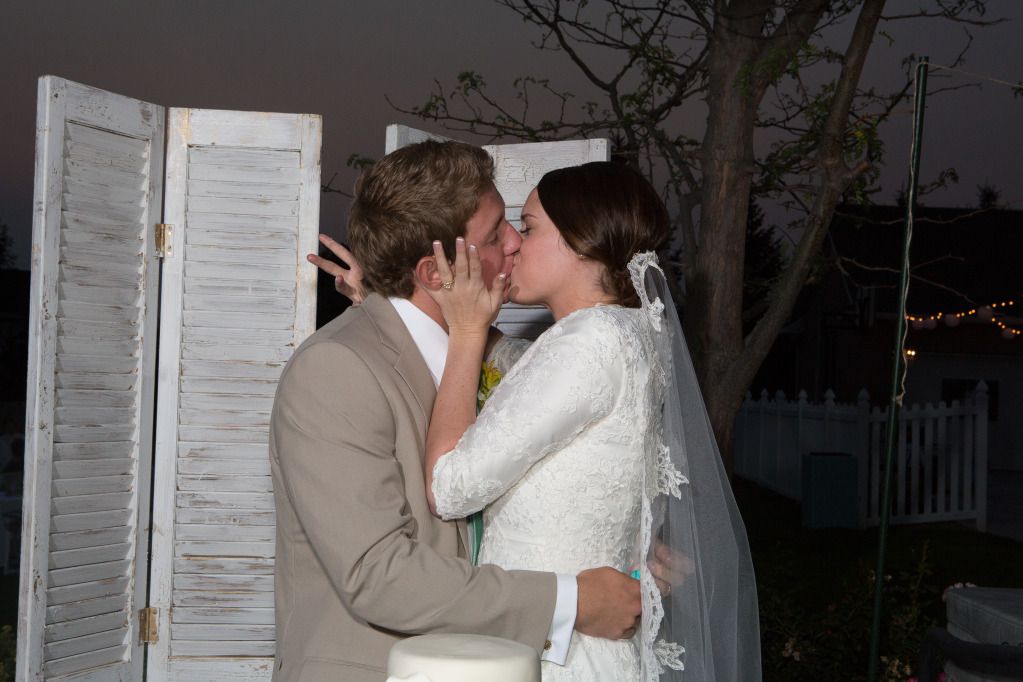 Now onto California! Adam's mom and sisters did the whole reception down there. They took a lot of things from the Idaho reception and then they had all sorts of tricks up their sleeves. It was almost a twin reception to the Idaho one and I couldn't have planned or decorated it better myself. At the reception down there is was all cupcakes (the chocolate ones were delicious) so the cake was one layer cupcakes one layer a really yummy white cake with a cute bow on top. The cake was from Sam's Club, and I now wish I had a Sam's Club card because that cake was the bomb.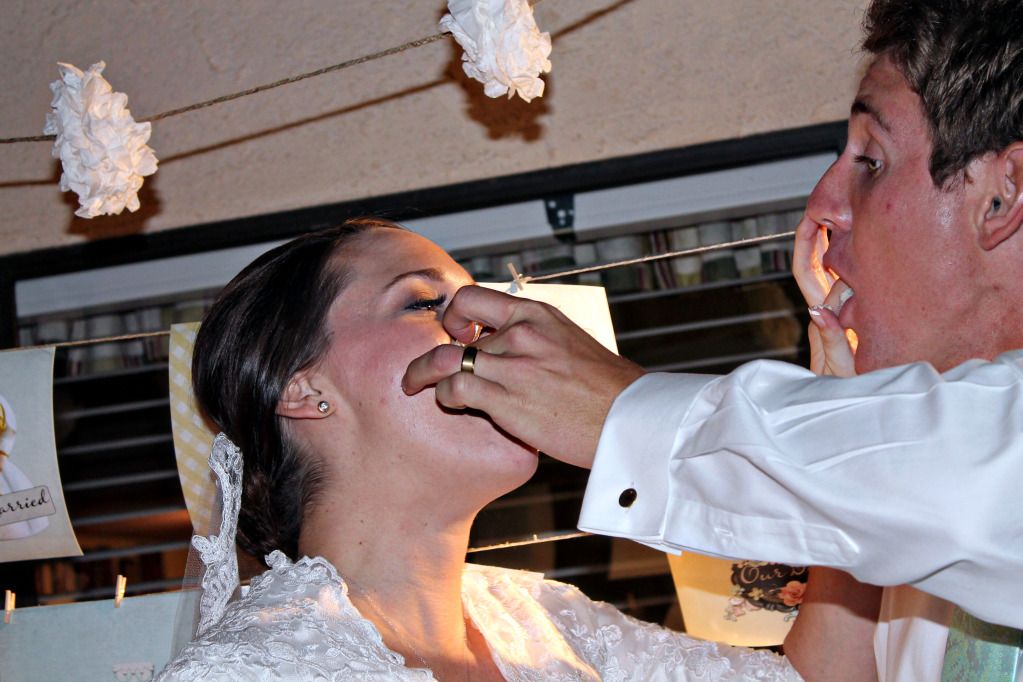 This is where we were not as nice as Idaho.... Adam was feeding me my piece and got some frosting on my face. On accident. You could tell he felt bad because his eyes opened wide and he said, "I am so sorry." But it was too late, plus we already had a nice cake cutting... so I grabbed some frosting and smeared it on his mouth. And then he got me back one more time. So I would say we are even now? Maybe? Probably not...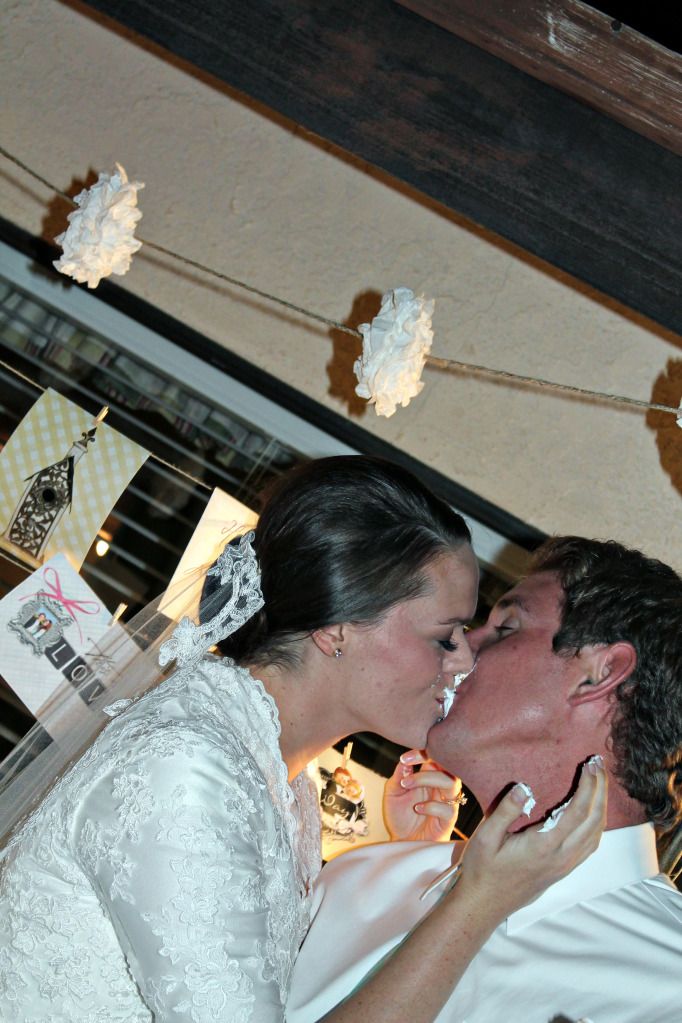 The top tier of the cake from Idaho is sealed in an airtight bag in the freezer for our one year anniversary. Everyone says it is gross and doesn't taste good. But I love tradition and so keeping that top tier was really important to me. And if the next 11 months go as fast as the first... we will be eating that cake in no time!
Love,
Deidre