Today I have Brandilyn of
Mom Clothes
(formerly Cats & Cardigans!)
and I'm so happy she agreed to join in on Fashion Fits Everyone.
She is a stunning mother. I love the fact that she dresses for her mom life and completely embraces it.
For me, fashion and beauty is all about what makes you feel comfortable. As a reader of fashion blogs, I'm constantly seeing posts starring stilettos, leather leggings, a bold red lip, the whole nine yards. It's easy to think that I should be wearing the same trendy pieces if I'm going to be posting about fashion and outfits, too. Here's my hang up, though: comfort. I'm not talking sweatpants comfortable (although of course I indulge in that often, too!), I'm talking about looking like you, in outfits that reflect who you are and the things you find beautiful.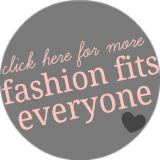 In this season of life, a mother is who I am, and I find joy and beauty in days spent stacking blocks, wiping up spilled Spaghetti O's, and drying tears. I don't have the budget for designer labels, and even if I did, it would be silly to wear clothes that had to be dry cleaned when I know they're going to get dirty fingerprints on them! This is what dressing for my body type means to me--wearing clothing that makes me feel put together and comfortable in my life, even when it would be so much more glamorous to dress for someone else's life.
Bottom line: my advice for body type and style? Dress for your life, in clothes that make you feel gorgeous!