The cutest pregnant lady you ever will see.
I have loved getting to know her this year.
I think you will love her too.
I was fortunate to grow up in a home where I was told daily, that I was beautiful. I always felt confident with my unique physical qualities (red hair and freckles) and my style. It wasn't until high school that I began to struggle with how I looked and dressed because of what others thought. It led to depression, anorexia and lots of self-doubt. It was one of the biggest struggles I have battled in my life. After high school, I made a promise I would always LOVE myself and not worry about what others thought.
I am so excited to have the chance to share my thoughts about fashion. I absolutely LOVE the "Fashion Fits Everyone" series and have enjoyed the incredible stories that continue to inspire me to feel comfortable in my own skin, especially as my body continues to change.
It wasn't until I got pregnant with my son that I began to feel a little of that self doubt as my body changed. It was so easy to feel fat and unfashionable as my clothes became too small and my body changed. I began to feel the pressures of maternity fashion and being that perfect petite mommy-to-be. During that awkward stage of "is she fat or pregnant?" I did everything I could to hide my body. It wasn't until I was almost 6 months pregnant that I decided to ROCK that baby bump and really love my body and style again. I realized how incredible it was that I was growing a human being inside of me and I wanted the whole world to know it.
Here I am again, now 6 months pregnant with my second child and feeling more confident then ever to LOVE how I look and ROCK my maternity style. My second baby is carrying much differently then my first one did (boy vs. girl) and I had to start wearing maternity pants MUCH sooner then I did with my son. But, lets be honest, maternity pants are awesome and with most of the styles you can't even tell they are maternity jeans! There are so many great trends right now that are PERFECT for a growing belly and everyone else to. (Especially for fall and winter) Leggings and skirts are a must have. Stripes and prints are great. Sweaters with a form fitting shirt underneath. (This one is my favorite to rock that bump out in front.)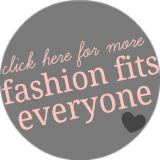 I absolutely believe if you wear something you LOVE with confidence, then it's fashionable. None of us have the exact same body type or personality so "fashion" can't be one look or brand or size because everyone is different. We live in a time where there are so many new trends happening everyday. Someone takes a risk and wears something THEY love. Some people love it. Some people hate it. Who cares? Feel comfortable in what you are wearing. Be able to look in the mirror and say I look FABULOUS today!
"Fashion Fits Everyone" because… fashion is individual. Size 0 or size 20. Skinny jeans or maternity jeans. Forever 21 or Fendi. Whatever you wear, love it and let the world know it's you!