Fashion Fits Everyone is featuring
Dearest Lou
.
This is a woman I have always admired.
Her outfits are always on spot and I have loved watching
her style go from pre-baby to pregnancy to post-baby.


Everyone has their own idea of what beauty is and what is and isn't fashionable. I personally don't go around judging people based on what they are wearing or whether or not they are wearing "top brands". I think what is most important when it comes to fashion is that the person feels confident and beautiful in what they are wearing. My husband always says I'm extra beautiful when I'm confident and happy. I think that the single most important "item" a person can wear everyday is a smile.
After getting pregnant and having a baby my body type completely changed. Prior to pregnancy I was more of a pear shape with a tiny waist and small chest. Now I'm somewhat of an hour glass shape with a not so defined waist (; I would be lying if I said that dressing my body after baby has been easy. I've had my days where I've had no confidence what-so-ever and would do anything to have my old body back. However, when I see my little guy smiling back at me I almost immediately stop thinking any bad thoughts about my new body and realize that it was all worth it for him.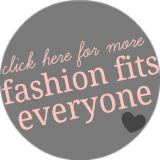 My style is still as crazy and unpredictable as it was before I got pregnant. The only thing that has changed is I try and focus on hiding the "pooch" (lose skin around my tummy after pregnancy). In order to do this I just wear a size up in tops or wear flattering bottoms that are high in the waist. I have days where I want to dress more feminine, bohemian, or vintage. It completely depends on what I'm doing that day and how I feel. I like to have fun with fashion and try a little bit of everything.
I have a love/hate relationship with fashion blogging. I love having a place to share my personal style and let readers know what stores I'm currently loving or what item I'm in search of. However, sometimes blogging can bring a person down. It's so hard not to compare yourself to other bloggers or people and wish that you had their body type, complexion, or money to spend on clothes. The best advice I can give you guys is to try and mix and match items you already have in my closet in order to save money. You would be surprise with the outfits you come up with and the money you can save. Also, try your best to not compare yourself to others and be grateful for the clothes and body you do have. Fashion fits everyone.