What a lot of people do not understand is how much goes into pageants. Looking fit and fancy is only a tiny part of the Miss America Organization. There is paperwork, raising money for charity, promoting a platform, and talent. Last week I turned in ALL of my Miss Idaho paperwork and I had the opportunity to select my contestant number. Mailing that envelope full of talent music, ad sales, my contestant resume and platform state, and the Miss Idaho contract was an incredible feeling. At that moment I knew that half the battle was complete, the most important part! I sent in every item that goes to the judges and the public. Now all I can do is work on me... my talent, my wardrobe, my fitness, and my interview skills. I want to send a SPECIAL thank you to all of my
sponsors and friends
that donated to
Children's Miracle Network
.
Some of you might be wondering what Children's Miracle Network is.... well, let me tell you! Supporting these children's hospitals is a community effort. The Miss America Organization teamed up with Children's Miracle Network Hospitals (CMNH) to raise money for the families and children in need. Did you know the 1 in 9 families cannot pay for their child's medical bills? Well that is where CMNH steps in. These hospitals don't turn anyone away, and they can afford to do that because of donations from people like you! there are hundreds (be careful if you watch any on youtube... you will cry!) of
miracle stories
. You can help me in preparing for Miss Idaho and these children in need by donating even just one dollar to CMNH!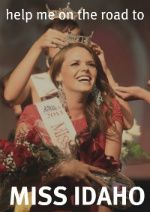 In addition to me raising money for that great organization, I worked hard to sell ads for Miss Idaho this year and it paid off! We pick our contestant order based off of how many ads we sell, and I sold the most ads which means I got to pick my number VERY first. It was such an exciting moment to see my name in the number one selection spot! I called my director to discuss and called in to the Miss Idaho board. After a quick discussion about how I felt getting to pick first and I let them know, "I will take spot 20!"
I cannot wait. Only 29 more days until Miss Idaho check in. That means 29 more days to work on my talent, current events, and fitness. An entire month to keep raising money for Children's Miracle Network. And 3 more blog posts (talent, evening gown, and platform perhaps?) to let you know all about my road to Miss Idaho. Thank you in advance for your support, whether it is through encouraging words or a donation to Children's Miracle Network!
Love,
Deidre